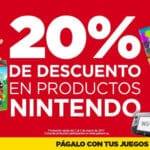 Este fin de semana en tiendas Gamers, podrás encontrar una variedad de productos Nintendo con 20% de descuento en juegos, consolas, accesorios y amiibos (no aplica para consola Switch ni sus juegos).
Consolas
2DS Electric Blue + Mario Kart 7
2DS Crimson Red + Mario Kart 7
New Nintendo 3DS XL Black
New Nintendo 3DS XL Red
Accesorios
Adaptador AC 120V para 3DS
Wii Remote Plus Black
Wii Nunchuck White
Wii Nunchuck Black
Wii U Remote Plus de Luigi / Peach / Mario
Wii U Remote Plus Blue
Wii U Pro Controller Black
Amiibos
2 Pack The Wind Waker
Link 8 Bit
Retro 3 Pack
Link: Ocarina of Time
Peach
Inkling Girl
Inkling Boy
Inkling Boy Color Alternativo
Ryu
Kottie
Blathers
Mr. Resetti
Animal Crossing 3 Pack
Kicks
Celeste
Animal Crossing Cargs Serie 2
Splatoon 3 Pack
Meta Knight Kirby
Tom Nook
Olimar
Pac-Man
Link
Luigi
Mabel
Yoshi Pink Yarn
Callie and Marie 2 Pack
Ganondorf
Dark Pit
King Dedede
R.O.B. Famicom
Yoshi
Charizard
Little Mac
Toad
Fox
Lucas
Zelda
Bowser
Jigglypuff
Juegos de Wii U
Super Mario Maker
Splatoon
Super Smash Bros.
Minecraft
The Legend of Zelda: The Wind Waker
The Legend of Zelda: Twilight Princess HD + Amiibo
Animal Crossing: Amiibo Festival
LEGO City Undercovered
Pokken Tournanent
Yoshi's Woolly World
Paper Mario: Color Splash
Pikmin 3
Mario Kart 8
Star Fox Zero + Star Fox Guard
Hyrule Warriors
Nintendo Selects: Super Mario 3D World
Tokio Mirage Sessions #FE
NES Remix Pack
Devil's Third
Nintendo Selects: Donkey Kong Country: Tropical Freeze
Mario Tennis Ultra Smash
Xenoblade Chronicles X
Bayonetta 2
Kirby's Rainbow Curse
Nintendo Land
Mario Party 10
Captain Toad: Treasure Tracker
New Super Mario Bros. U + Luigi U
Wii U Sports Club
Juegos de Wii
Nintendo Selects: Super Mario All Stars
Nintendo Selects: Super Mario Galaxy 2
Juegos de 3DS
Pokémon Sun & Moon
Super Mario Maker
Super Smash Bros.
Poochy & Yoshi's Woolly World
Pokémon X / Y
Pokémon Alpha Sapphire / Omega Ruby
Donkey Kong Returns
Mario Kart 7
The Legend of Zelda: Tri-Force Heroes
The Legend of Zelda: Ocarina of Time 3D
The Legend of Zelda: Majora's Mask 3D
The Legend of Zelda: A Link Between Worlds
Super Mario 3D Land
New Super Mario Bros. 2
Yoshi's New Island
Luigi's Mansion: Dark Moon
Kirby Planet Robobot
Fire Emblem Fates: Birthright
Fire Emblem Fates: Conquest
Fire Emblem: Awakening
Mario Party: Island Tour
Mario Party: Star Rush
Mario and Luigi: Paper Jam
Xenoblade Chronicles N3DS
Dragon Quest VII: Journey of the Cursed King
Dragon Quest VII: Fragment of Forgotten Past
Animal Crossing: Happy Home Designer
Bravely Second: End Layer
Mario & Luigi: Dream Team
Puzzle & Dragons + P&D Super Mario Bros.
Hyrule Warriors Legends
Yo-Kai Watch
Yo-Kai Watch 2
Mario & Sonic at the Rio 2016 Olympic Games
Pokémon Rumble World
Kirby Triple Deluxe
Fantasy Life
Pokémon Mistery Dungeon
Pokémon Art Academy
Profesor Layton vs. Phoenix Wright: Ace Attorney
Ultimate NES Remix
Disney Magical World
Animal Crossing: New Leaf
Chibi Robot: Zip Lash
Promoción válida del 2 al 5 de marzo de 2017. Sujeto a disponibilidad en tienda. No aplica con otras promociones. Los precios y fechas pueden cambiar sin previo aviso.